Nuremberg Hobby Show 2013
This trade show is officially known as 'SPIELWARENMESSE International Toy Fair Nürnberg', but within the hobby and toy industry it's known simply as "Nuremberg", or the Toy Fair. This year, more than 70,000 recent kits and the hot products are on display in the 160,000 square meters Venue! Hundreds of distributors, magazine editors and RC news sites are roaming the halls to get the news about the hot upcoming items from everyone!
Here are some highlights:
Just Arrived! Getting excited
Tamiya Booth
Wow, Tamiya 's Toy Cars! Can I have it all?
Tamiya 1/14 R/C Mercedes-Benz Actros 1851 GigaSpace (Item No:56335)
Most eagerly anticipated additions to RC Fans! Oooops, did it say No Photo?
Highly accurate RC assembly kit of the single axle rear-wheel drive Actros 1851 GigaSpace, which runs on a 12.8-liter 6-cylinder turbo-charged engine capable of 510hp. No wonder it's named "The 2012 Truck of the Year"!
Just look at its details and auxiliary equipment such as air tanks! What a replica-quality realism.
Durability, Drivability, and Realism.
| | |
| --- | --- |
| Headlights capture the unique white generated by the Actros' HID lamps. | Taillights, turn signals and brake lights all look just like the real thing and accompany truck movement. |
| Use the coupler to attach any of Tamiya's 1/14 scale trailers, and listen out for the different engine sound, and trailer release noises. | The model corners beautifully thanks to inbuilt differential gears, and the suspension won't let you down, with metal parts such as leaf-springs and dampers with internal coil springs. |
| The control box is where you'll find easy-to-use volume, light and component switches. | Change the 3-speed transmission at will as you drive. It's just like driving the real thing! |
Tamyia M06R!!
Refined, Race-spec version of the M-06 chassis. Enhanced Traction & More spirited handling.
The long-awaited TT-01-successors! Tamiya TT-02 is a new design with plastic tub chassis, LiPo battery and a closed receiver box. The first is based on the TT-02 vehicle will be the Ferrari 458 Challenge (# 58560).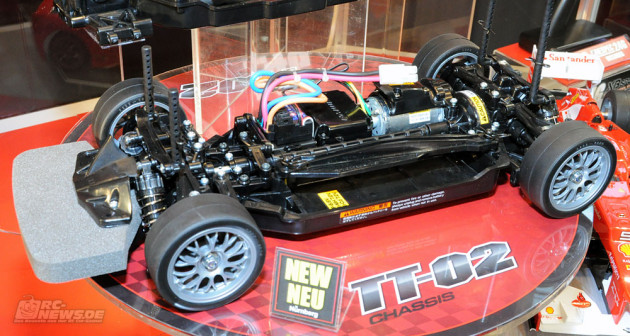 Tamiya TT02, the battery is now on the left side of the vehicle that receives now LiPo battery packs without reworking.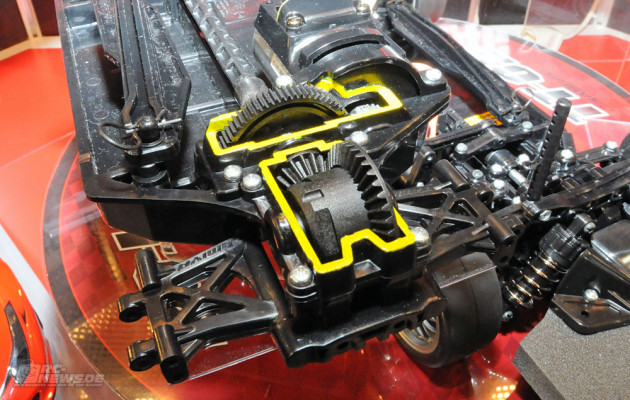 Nuremberg International Toy Fair 2013 Tamiya TT02 Announced!
On the axles differentials closed cone are used.
LRP
HPI
Team Associated
TRAXXAS
NEW Low Center of Gravity Chassis for Slash 4X4!
Lower CG, Higher Corner Speed, Lower Lap Times.
Kyosho
You can follow any responses to this entry through the RSS 2.0 feed. You can leave a response, or trackback from your own site.