Professional
"Knowing who you're dealing with: get the seller's phone number and postal address"… this is one of the golden rules for secure on-line shopping. Some online stores do not have office or warehouse. What they have are just their website storefonts, but nothing else; no physical office/ address, no contact telephone, no fax, no staff, no stock, and, perhaps, no shipment. Unlike those amateur shops, rcMart.com has a physical office with a 11,000 sq feet stock room.
Since 2001, rcMart have provided enthusiasts top-quality RC car kits, model kits, hopup parts, and accessories at the most reasonable prices. rcMart helps hobbyists find top of the line RC cars, parts, and accessories from the leading manufacturers. Whether you're a beginning hobbyist who has just started to get into driving radio controlled cars, or an experienced RC car racer looking to upgrade a high performance machine, we have everything you need to keep your radio controlled cars running in peak condition.
Physical Stock
We sell what we have! Some RC online shops in Hong Kong do not keep stock. What their business are just purchase-on-demand. Luckily, you will get your orders from them after one or two weeks, if stock are avaialble at the local distributors. In most cases, they will request you to change this or that. Sometimes, it even takes thousand years for you to get a reply from them. Surely this is not what you want, right?
Do you have stock for this or that on your site??
Well! We sell what we have!!
We sell our stocked products only! What you see in our site are all in stock. All out of stock items will be removed on the list ASAP. Right now, we have about 400-500 orders daily; therefore, some goods may run out of stock temporarily after deducting the quantities from orders. But, we will do our best to re-stock all products right away! rcMart.com will continuse to increase our stock level and varieties to keep pace with our growth! Wish you all a nice shopping experience with us!

eBay Plaintium Top Seller
We got over ten thousand feedbacks from various ebay members!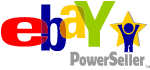 eBay Top Seller Award for rcMart
We are proud to announce that we are awarded the Top Seller Award from ebay for being one of the most reliable and highly recommended RC product suppliers on ebay in March 27, 2007.
Shop at our store room
We welcome all buyers to visit our stock room for shopping!!
Visit by appointment only!! No walk-in please!!
Competitive Price

As we order from our suppliers in volume, rcMart is able to provide all products at competitive prices. If we can further increase our order volume, surely we will gain a stronger bargining powers to negotiate with our suppliers. Our aim is to provide all RC fans an easy, convenience, excellent service "RC MART" where you can find numerous superior quality RC products at unbelivable low prices!
Besides, we also work with several exporters in Japan to ensure a continuse supply of rare R/C at rock bottom prices. Also, we have the abilities to provide you the hottest R/C stuff from Japan!

Good Packaging & Speedy delivery
We have processed more than 190,000 orders (up to April 2007). We have learnt much solid experience from our previous practises, so we know what you need and have the ability to provide you a smooth and easy transaction!
Some amateur on-line shops will put your items in a thin envolope without any protection. Horriable!! Conversely, we concern good packaging to avoid any damage during transportation. It is surely no good to pay less on shipping and take the risk on breakage.
Our well-trained operation staff will pack your orders with layers of bubbles and place your items in strong boxes. A strong box is a must to protect your favor ordered items. We can ship your orders within 3 business days in most cases.

Step 1
Thks your order

Step 2
Bubble pls

Step 3
Wrap it

Step 4
Pack it

Step 5
Sealed

Step 6
Here you go!
International Exhibitions
Dinball Group of companies always participates in international trade shows to display our new products, and directly getting in touch with our customers worldwide.
| | |
| --- | --- |
| 2011-09 ShangHai International Model Exhibition | 2004-10 BeiJing Hobby Show |
| 2004-06 ShangHai Hobby Show | 2004-10 Las Vegas Hobby Show |
| 2006-02 Nuremburg Hobby Show | 2008-01 Hong Kong Toy Show |
Factory Direct
Our professional purchase team sources quality products directly from factories & sell on rcMart. Our aim is to minimize the supply chain's layers & offer the best valued products to our customers!
Paypal Shop Top of the list!
We are very proud to be the paypal top sites in two catagories. The rank in paypal shop is based on volume. Thanks for the support from thousands of our customers!
PayPal Shops > Hobbies > General
PayPal Shops > Toys & Games > Hobbies
Paypal Verified & Qualified World Seller
| | |
| --- | --- |
| rcMart is a Paypal Verified Seller! | rcMart is a Qualified Paypal World Seller |
Paypal Money Back Gaurantee
Safeguard your online purchases with PayPal's Money Back Guarantee. Paypal only offers this Money Back Gaurantee to limited qualified sellers only. rcMart.com has been selected by paypal to participate in this Program.
Check here for more information about this program!
When you make a payment on rcMart.com, you can now buy a Money Back Guarantee to protect your purchase of physical goods on selected transactions. If you purchase the Money Back Guarantee, you will have the option to return your merchandise to PayPal in exchange for a reimbursement (not including the Guarantee fee), provided that you file a complete reimbursement request within 30 days of payment.
*** The Money Back Guarantee will only be applicable to U.S. buyers on physical goods transactions for less than $1,000.
Testimonial
"Super fast shipping by rcmart!! bought it on 10/12 on normal airmail and it arrived on 16/12!!" By Teo Peter
"very fast shipping, 1st ietm arrive in 16 days, 2nd item arrive in 12 days!! i've just finished building my 1st dingo kit without any problem, it also perform well straight out of the box!! very recommended for everyone that want to play rc scale adventure without having to do extreme modification. thanks RCmart!" By Wei Liang
"…RCMart really knows how to send you anything, in order you to get it in a brand new condition (I refer to the "bad" behavior of postage offices sometimes). My hapiness was bigger when I opened the box and I saw the box unscratched, absolutely undamaged and not pressed anywhere at all. Keep up the good work and bring to us more Tamiya products, RCMart! :)" By Charilaos Stais
"RCMart is one of the only places that sell these parts. Tamiya's gears hold up much better than many of the aftermarket ones."By Gerry Holm
"Highly reccomended & worth every penny. Plus the service at RCmart is second to none." By Tim Stapert
and more…
rcMart strives to provide excellent shopping experience to all RC hobbyists. We continuously look for ways to improve our service and this is clearly reflected in some of the warm comments/feedbacks from our delighted customers. Thank you again for your support!
www.rcmart.com